On February 3, the 4-day ISE 2023 exhibition came to a successful conclusion. Held in Barcelona, Spain, ISE is the largest professional audio-visual exhibition in the world. The exhibition brought together the latest international audio-visual technology and fashion trends, Uniview LCD was invited to attend the exhibition again to discuss, communicate and showcase the industry's latest technologies and products with outstanding companies from all over the world.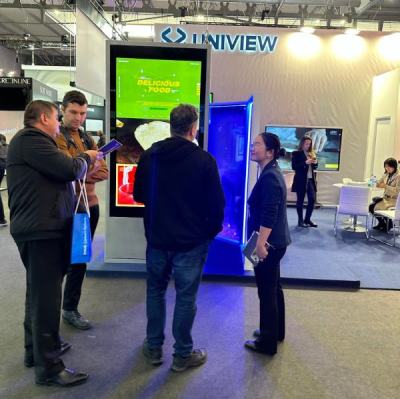 As an innovator and pioneer in the LCD digital signage industry, Uniview LCD showed off its latest LCD digital signage technology and solutions, built to attract the attention of viewers with easy-to-use LCD display solutions.
Uniview LCD's outdoor 75″ outdoor floor standing digital signage attracted a lot of attention once it was unveiled. This digital signage integrates monitoring functions which can which can monitor temperature and humidity, door opening(access control), water immersion, smoke, noise, co2, etc. It readable in direct sunlight or highly lit areas with 3000nits brightness and automatic brightness adjustment.
With 2500nits high brightness, IP66 waterproof and dustproof certification and outward facing, the 55"outdoor wall mounted digital signage is a perfect solution for retail store, supermarket, hospitality, etc.
Here is the 55 inch outdoor double sided kiosk, which can deliver the best visual performance and longest lifetime on the market with sunlight readable and automatic temperature control function. It will grab the attention of passers-by no matter which direction they are coming from.
Uniview LCD's window display is compatible with any window layout and highlights with an ultra slim and sleek design, making your content really stand out from the crowd.
Uniview LCD's ISE 2023 tour has come to a successful conclusion, among which solutions such as high-brightness outdoor digital signage, double sided floor standing kiosk, and interactive whiteboard have won the favor of many exhibitors. We has made continuous breakthroughs in technology research and development, yield rate, and will continue to adopt the most cutting-edge innovative technologies to satisfy every customer.
If you're curious about Uniview LCD more diverse digital signage solutions, then click here!