With the increasing application of digital signage, digital signage has gradually replaced printed signage in schools and educational institutions. Why are more and more schools and educational institutions starting to use digital signage? Installing digital signage in schools is an efficient and cost-effective way to give school staff and students quick access to information.
Application of digital signage in the classroom
If a school or educational institution plans to deploy digital signage in the school, the first consideration is the classroom, and interactive whiteboards come into being.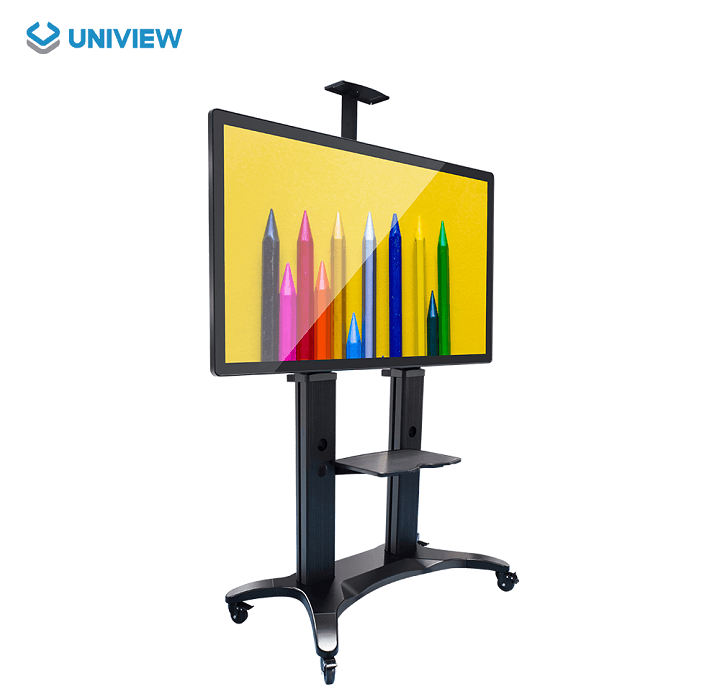 Interactive whiteboard for the classroom
An interactive whiteboard (IWB), also known as an interactive board or smart board, is a large interactive screen display board in the form of a whiteboard. It can be a stand-alone touch screen, or an attachable device that acts as a touchscreen to control a computer through a projector. Interactive whiteboards or electronic whiteboards have the functions of ordinary whiteboards, as well as interactive and interactive display functions. It turns out that the use of interactive whiteboards in the classroom can significantly improve classroom participation of students, and provide teachers and students with better learning and teaching experience in a variety of teaching performance methods.
Digital signage is a digital display that can carry pictures, content, video, etc. Compared with the traditional whiteboard, it can undoubtedly achieve more functions and make the classroom more interesting and lively. The interactive electronic whiteboard is a ideal tool for school classrooms and workplaces. It can be connected to your smartphone, tablet or other mobile devices to enable teachers or students to achieve dynamic presentations. At the same time, it also has the writing function of traditional whiteboards , so your class can manifest in a variety of ways.
Advantages of interactive whiteboard for classroom
Increase students engagement
Compared to blackboards, interactive whiteboard can capture students' attention with colorful, engaging image animations. Especially among contemporary students, they have become accustomed to digital information flooding every aspect of life.
Versatility
Electronic whiteboard is a display that integrates multiple functions such as listening, speaking, reading, and writing, and is easy to operate. Interactive whiteboards are perfect for any type of classroom, lecture hall, or even a distance learning environment.
Application of outdoor digital signage in schools
Effective communication is an integral step in education, but not inside and outside the classroom as well. The application of digital signage in schools is not just a function for interactive teaching, in school playgrounds, school entrances, cafeterias, halls, libraries, etc., digital signage may be used for wayfinding, advertising display, school information release, weather forecast, etc. Schools can now engage with students using a host of fully customizable dynamic apps that display social media feeds, instant alerts, interactive campus maps, and more.
For example, when you come to the library for the first time, you can use the digital signage to check the area where the book you are interested in, how to get there, the remaining books that can be borrowed, the time for borrowing books, etc. Or, at a cafeteria, you can top up your meal bill, look up food prices or lunch specials, and more.
Aside from important announcements, LCD digital signage in schools can also function as a display for other essential parts of campus life. Instead of putting up clocks, you can use digital signage to display the time and temperature. You can also announce when a teacher is absent so that students will be informed.
Summarize
The application of digital signage in schools is now becoming more and more popular. Uniview LCD has helped many schools and educational institutions transition from static signage or whiteboards to digital signage. As a professional digital signage manufacturer and supplier, Uniview always insists on providing customers with professional and effective industry solutions.
If you are ready to implement an interactive whiteboard into your school, don't forget to check out Uniview LCD's solution or contact us for more information.