The outdoor LCD display is a clever marketing strategy for businesses of all sizes from different industries. These displays improve the visibility of your brand, reach more people, and provide more info about products and services. As outdoor LCD displays are widely used, Uniview's products are becoming increasingly popular. You see, Uniview outdoor LCD display has a wide range of functions, which is why the public welcomes this high-quality display. Scroll down to read seven things you need to know about this display.
7 Things you need to know about Uniview outdoor LCD display
Outdoor advertising screen display from Uniview is a high-quality solution for businesses that want to step up their marketing game and improve customer experience. Below, you can see seven things you should know about this type of digital signage.
1.Versatile application field
What makes outdoor digital signage such a strong marketing tool is a versatile application field. The outdoor LCD display can be installed in the streets, scenic spots, and public facilities. They can be used for bars and restaurants, hotels, banks, museums, arenas and stadiums, at airports, just to name a few. More precisely, the outdoor LCD display can serve to promote products and services regardless of the industry or size of a company.
2.Functions
The same way outdoor LCD display has multiple applications; it also has several functions. They are listed below. 
The most well-known function of digital signage is advertising. In fact, installing an outdoor LCD display is one of the best ways to promote your brand or company and reach a larger number of people. Outdoor digital signage can reach about 70% of the public compared to Facebook, which reaches 45% only. Let's put it this way, everyone who walks by or near your sign is a potential customer, and you can spark their interest.
Anti-polarized light means that even if a person is wearing sunglasses, they can see what's on the outdoor LCD display. Regardless of the time of day, weather, and other environmental influences that may impair visibility, anti-polarized light ensures passersby can always see what you're promoting or displaying on that screen.
Automatically adjust the temperature and screen brightness
Outdoor LCD displays can often experience problems that impair their functioning. Overheating is one of the common problems. Not only do some displays use too much energy and electricity, but their service life isn't as long as you'd want it to be. Uniview outdoor LCD display is different. By automatically adjusting the temperature and screen brightness, the screen operates at an optimal level at all times. At the same time, it doesn't use too much energy. All this can prevent overheating and significantly prolong the service life of digital signage. That way, you will be able to get the maximum from the LCD display you install.
Additional functions (customizable)
Besides the abovementioned functions, Uniview outdoor LCD display has many other features that can take customer experience to a new level. Many features are customizable, meaning you can opt for those that you truly need. Some of these functions include education, landmark indication, public telephone monitoring, map guidance and query, and even alarm.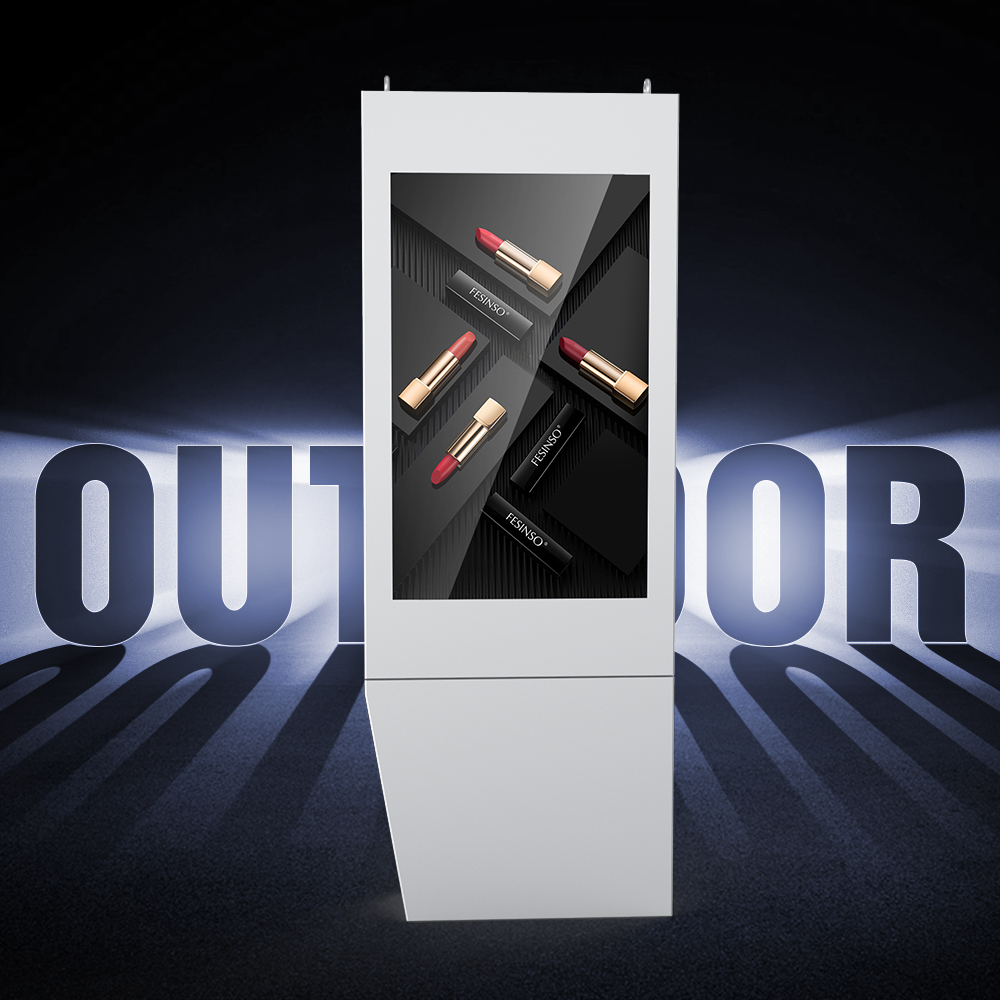 3.Installation Method
Even though setting up an outdoor LCD display may seem like a complicated task, Uniview's signage has simple installation. This low-maintenance display allows companies and businesses to promote their products and services or share useful information without a tedious maintenance process. When it comes to the installation method, Uniview has two different options to choose from.
Standing on the floor or freestanding, an outdoor LCD display is positioned directly on the floor and easily captures the attention of passersby. These displays are usually installed within the path of travel of customers. For example, shopping malls tend to have freestanding LCD displays along the hallways, but many stores have them outside as well. People walk by, see what's on display, and pay more attention to the company whose products or services are promoted on it.
Hoisting or wall-mounted, the outdoor LCD display is installed on the wall, as you can presume from its name. While freestanding LCD displays do better in larger spaces, hoisting signage can easily fit into tighter spaces without obstructing people's movement. For example, if you don't have much space available in front of your business, a hoisting outdoor LCD display would support marketing efforts or provide more information without acting like an obstacle to people who walk by outside.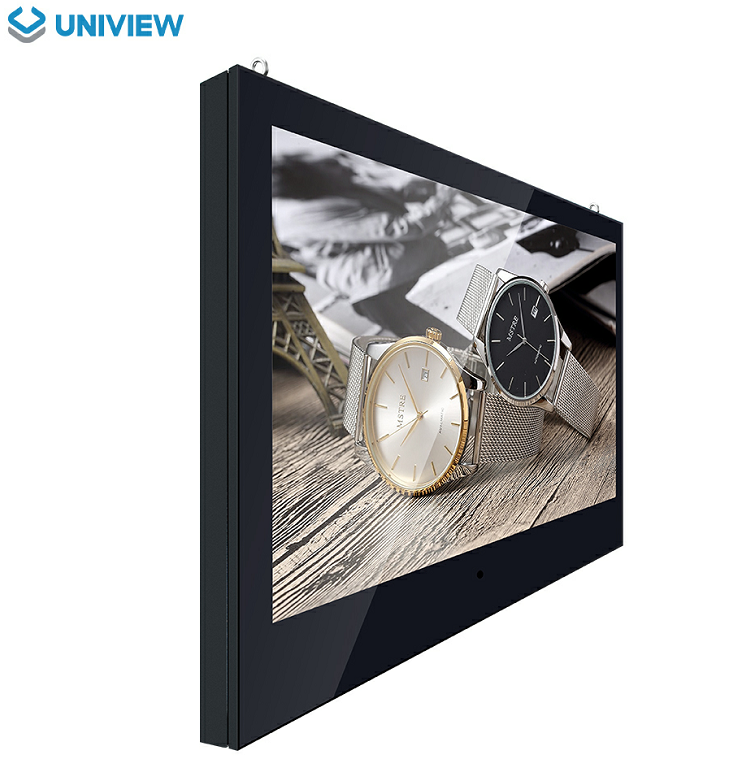 4. Customizable appearance
Not every company or business is the same. Different businesses have different needs. For that reason, one type of digital outdoor signage can meet everyone's needs. Uniview has found a solution that works for everyone – customizable appearance. In a nutshell, the shape of the outdoor LCD display can be customized based on your design preferences and requirements.
5.Long service life
The last thing you want is to invest in an outdoor LCD display for advertising purposes only to find out its service life is short. Not only is this stressful, but the return on investment is unsatisfactory. Uniview's outdoor LCD display has a long service life of 50000 ~ 60000 hours. That way, your digital signage will prove to be the best choice for advertising and marketing efforts.
6. Environmentally friendly design 
Care for the environment is incredibly important in an effort to tackle climate change and everything it brings along. Uniview's digital signage has an eco-friendly design. Basically, the company meets the quality and environmental protection standards and requirements in different countries. That way, these outdoor LCDs are energy-efficient and help protect the environment.
7. Latest protection grade
The outdoor LCD advertising display should be able to withstand different environmental influences and function perfectly at the same time. Uniview's digital signage has waterproof and dustproof grade IP66, whereas explosion-proof grade is IK10. Not only can the signage endure heavy rains and other similar conditions, but it also has the highest rating for protection from physical damage against human-based forms of destructive vandalism.
Uniview: An excellent outdoor LCD display supplier you can't miss
When it comes to the outdoor LCD display, Uniview is the obvious choice. The professional manufacturer and global supplier of LCD displays also have high customization capabilities. Uniview has over 30 experienced engineers in this industry and a multitude of design- and function-related patents. One of the many advantages of this brand is its customer service. In fact, Uniview's experts can solve any problem with signage onsite. Uniview's main customers are from Japan and Germany, and we also have a branch in the Netherlands. Our great product quality is even welcomed by the salespersons of rival companies, and the long-term customers from Japan and Germany agree with our product quality.
Conclusion
Uniview is committed to expertise, which is why we focus on building a wonderful team of experts and engineers to develop truly outstanding outdoor LCD display options for your needs. Customizable displays allow you to get the most from your investment and also enhance the overall customer experience.