If you're looking for a way to attract more customers or improve their experience with your business, an indoor LCD display can help you out. The use of these displays is increasingly popular across different industries. In some places, indoor LCD displays are absolutely crucial, and this post is going to focus on the top five of them. Scroll down to learn more.
Why is indoor LCD display popular?
You've probably noticed LCD displays are almost everywhere. It's impossible not to wonder what makes them so popular among business owners, regardless of the size or industry. Well, the primary objective of a business is to retain current and attract new customers or clients. The business should remain relevant in a customer's mind.
The best way to do that is to ensure it's associated with quality of service or product and a strong identity. To achieve these things, you need to focus on branding and marketing. That's exactly where the advertising screen displays indoor steps in.
The indoor LCD can take your marketing strategy to a whole new level. Not only does it look impressive inside, but also it improves branding, presentation of information, and customer engagement. For these reasons, and others such as versatility, and communication, indoor LCD displays are becoming more and more popular.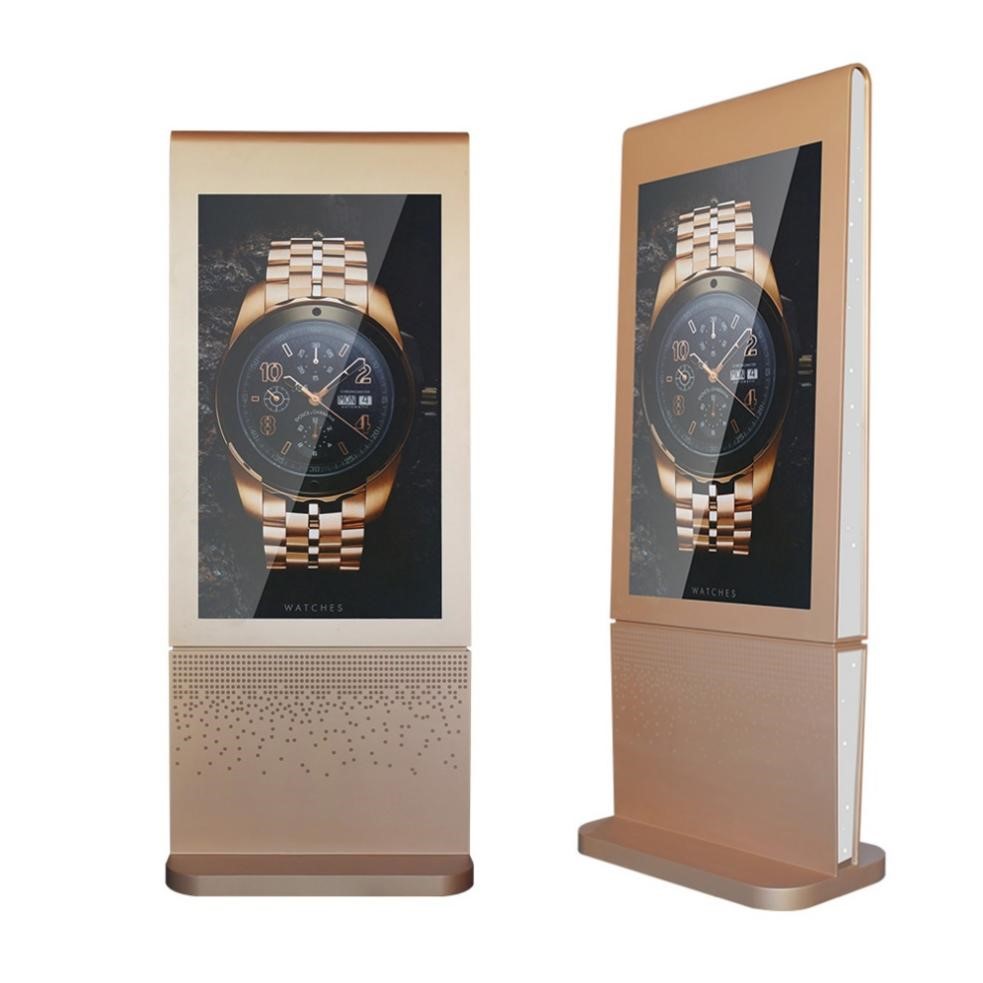 Top applications of indoor LCD display
The best thing about LCD advertising display is its versatility; it has numerous applications. Below, we're going to focus on the top five places where the LCD display is necessary.
1.Restaurants
Applications of an LCD display in restaurants are numerous. For example, an indoor LCD display can serve the purpose of advertising a specific dish or event. If you have a new meal in your offer or want to promote specials every day, the indoor LCD display is the answer. It also serves for entertainment and self-service ordering.
Additionally, you can cut down the risk of guests leaving when they see a queue or a lot of people inside by using the indoor LCD as a waiting time board. In fact, the indoor LCD display can decrease the perceived wait time by up to 35%. You can also use the indoor LCD to create a digital menu board or promote your social media profiles.
Best indoor LCD display for restaurants: Uniview Indoor Totem – U2020-M with reinforced aluminum profile, side strap design, light bar options, and other useful features. The display looks elegant and fits into your restaurant setting easily.
2.Hospitals
Applications of indoor LCD displays are not reserved for businesses and commercial properties only. They also extend to hospitals. In the clinical setting, these displays can serve for body temperature detection, self-registering service, and self-service of medication queuing.
Digital signage in the form of an indoor LCD display allows visitors to find directions and avoid getting lost in hospitals. Thanks to these screens, hospital staff don't have to explain directions anymore, and they can focus on more important tasks – helping patients get better.
Additionally, indoor LCD displays can decrease waiting room anxiety and allow hospitals and clinics to honor their donors and increase revenue. Sharing some info about hospital staff is also an option with an indoor LCD display, allowing patients and visitors to learn more about healthcare professionals and their hard work.
Best indoor LCD display for hospitals: Uniview Indoor Dual-Sided-Kiosk-DF1900 launched in 2020. The signage is equipped with a dual-screen, and the dual door moved design on two sides. Contents on the two screens can be identical or different. This indoor LCD display also comes with multiple touch screen selections.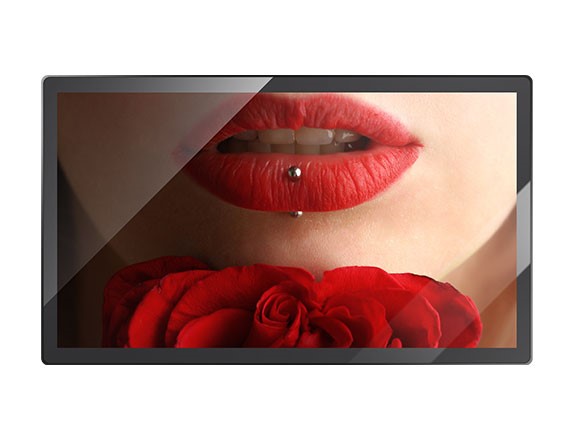 3.Personalized theme clubs/hotels
In hotels and clubs, indoor LCD displays allow for customization of several functions, all of which are related to entertainment and promotion of services and perks you offer. With digital signage, you can increase the attraction of the venue, create an atmosphere and generate interest, improve lighting, and even enhance the interior decoration.
For example, the floral theme on display oozes a romantic vibe in a hotel venue during the wedding reception. Plus, an indoor LCD display can promote special offers and cocktails in clubs, themed parties, performances, and more.
Best indoor LCD display for clubs/hotels: Indoor Wall Mounted Display – WI300L comes with a simple, full-glass design and multiple functions. For instance, the signage has both portrait and landscape screen modes. It features multi-system and multi-port selection, and it can be either wall- or ceiling-mounted.
4.Brand clothing stores
In brand clothing stores, the indoor LCD display can display uninterrupted images and videos to grab customers' attention. It also builds publicity and also serves simulated try-on purposes. The indoor display also promotes new clothing items, sales, and social media posts.
Most importantly, an indoor LCD display ensures brand consistency across multiple stores. If you have stores in different locations, it's important to ensure they generate the same vibe – these stores represent the same brand, after all. Displaying the same images and videos helps achieve that goal easily.
Best indoor LCD display for brand clothing stores: Uniview Indoor Dual-Sided Kiosk-DF600, floor-standing digital signage, with an ultra-thin profile. Screens can display identical or different content. It is specifically designed to enhance customer experience.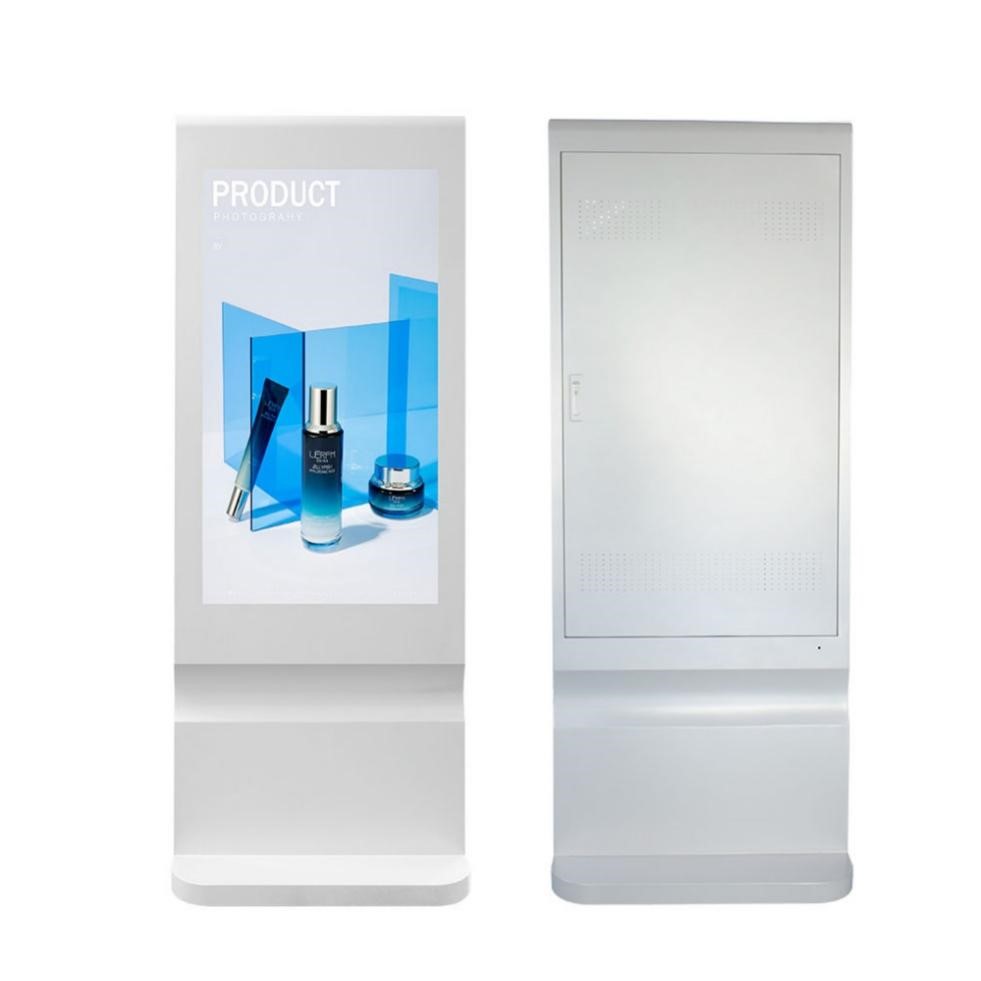 5.Supermarkets
The biggest advantage of an indoor LCD display is that it allows for accurate planning of any advertising campaign. That's the easiest way to advertise products, special offers, or new arrivals. Additionally, the signage can also serve for temperature detection.
The screen can also serve to send messages to customers, e.g., to check out specific aisles, wish happy holidays, raise awareness of certain topics, among other things.
Best indoor LCD display for supermarkets: Uniview Indoor Totem Premium Series-U2020-S shines brighter than other indoor LCD displays thanks to the 700nits the IPS panel. As a result, the display shows high-quality images and videos but also has outstanding sound quality. In addition, the display brightness of this LCD display includes 350/700/1000/1500nits, and you can always find the right one.
Combination of IoT and Uniview indoor LCD displays
Intelligent advertising displays combine the concepts of 5G and the Internet of things, working with mobile payment, QR code, block-chain, AI, and other technologies to develop into information and intelligent integration.
LCD advertising displays eliminate traditional advertising models, such as handing out flyers, newspapers, and magazines. The advertising screen display is environmentally friendly, energy-saving, and it provides various types of communication in multiple directions, which is easily accepted by the majority of the community.
The combination of IoT and Uniview indoor LCD displays gives a new dimension to customer experience and further supports branding of a store, restaurant, and other business.
Thanks to this unique combination, customers learn more about the brand but in an interactive and modern way. Businesses can control the content of LCD displays through the Internet, which simplifies the process of brand promotion and customer engagement.
Conclusion
The indoor LCD display contributes to marketing and branding strategies in multiple ways. Sharing content on elegantly designed screens with practical frames improves customer engagement and retention and allows for seamless promotion and unified appearance in multiple locations. In the world of LCD displays, one name stands out – Uniview, the most reliable brand with tons of LCD options for indoor or outdoor use. Sleek design and multiple features make our displays an obvious choice for your business.