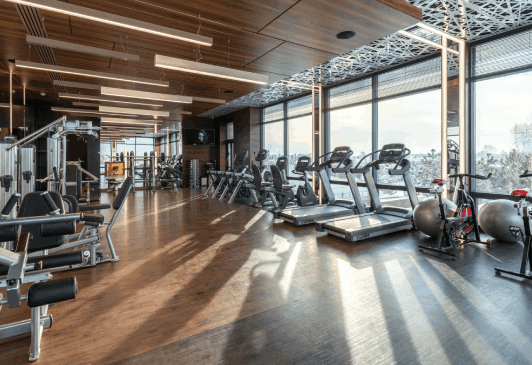 With the end of the pandemic, gyms that were blocked due to the epidemic have begun to become a frequent stop for many fitness enthusiasts. The fitness industry is going through a major recovery.
Can digital signage benefit the fitness industry as a digital display that can be easily applied to any industry? How to make better use of digital signage in gyms and fitness centers to improve customer experience, attract new members and increase customer retention?
Outdoor Digital Signage
Outdoor digital signage is placed in a location with a lot of traffic outside the gym, displaying the gym's special equipment, activities, courses, discounts, etc., arousing consumers' interest and entering the store for experience, which is also a perfect way to build a brand.
Attracting more potential customers into the store is the top priority of every gym, and outdoor digital signage is placed where the crowd passes by, and through dynamic videos or pictures, it provides the perfect channel to promote the gym's new exercise programs and courses.
Digital signage can be used in gyms and facilities to advertise:
1.Recommend exercise programs, new programs and classes
2. Use outdoor digital signage to recommend new items and courses in the gym
3. Discounts and Promotions
Gyms can use outdoor digital signage to promote free experience activities, member discounts, etc., to attract more customers into the store.
4. Branding
You can also show your brand story through digital display, let more customers know how you can help them, and easily connect with your target audience.
Indoor Digital Signage
1. Video wall
The large-scale video wall display can let members know the latest information of the gym, such as fitness class schedule, gym opening hours, cleaning and maintenance schedule, etc., and can let consumers know the gym dynamics in time.
2. Interactive Kiosks and Floor Standing Digital Signage
In addition to displaying information, digital signage can also support digital registration, allowing customers to choose exercise programs, sign up for courses, and more.
Positive success stories can also be shared through digital totem, sharing exercise guidance, health tips and tricks, etc. to entertain and motivate fitness enthusiasts.
Digital signage allows you to display content on demand at specific times and days. So you can also display different offers and events according to different age groups and different groups.
Of course, if you partner with other brands to rent out the digital signage advertising space, you can generate additional income for the gym. Through this kind of interactive marketing, while bringing more choices to customers, it can also bring you a huge increase in sales.
3. Social Media Wall
Encourage customers to actively participate, display customer positive comments and customer success stories on the social media wall, let customers know more about customer comments and promote the positive image of the company.
Digitization is a trend, use Uniview LCD's digital displays to improve your gym or fitness center, make your gym stand out and deliver the right information to customers, while saving money and time, simple and effective solution.
If you want to know how digital signage can benefit your business and brand, click contact Uniview LCD to learn more.