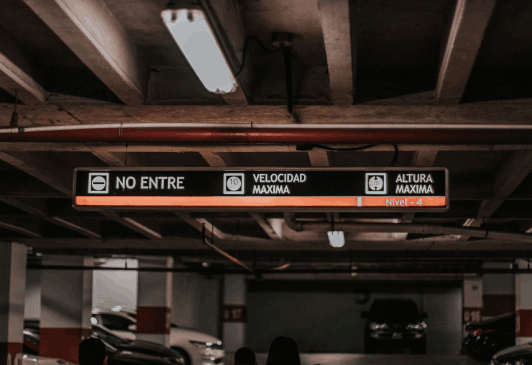 Have you ever thought about applying digital signage in your car park? Compared with the traditional solution, Uniview LCD is willing to help you level up your brand image more effectively with our digital display.
Information Display
Digital signage can be the perfect carrier for essential information such as parking fees and opening hours. Being placed in a conspicuous position, important information and announcements on luminous display screens can be noticed by drivers more easily and quickly.
It promotes information throughout car park users. It can also display other useful information, for instance, safety tips, speed limits, the number of remaining parking spaces, road conditions nearby and so on. With the help of our ambient light sensor of the digital signage, the screen's brightness changes automatically depending on the ambient light ensuring the most suitable brightness at any time of the day.
Ultra-high brightness display screen, which under the protection of exterior AR glass, can be easily readable in bright weather conditions. In addition, the intelligent network can be a great helper if there is any change on the bulletin board.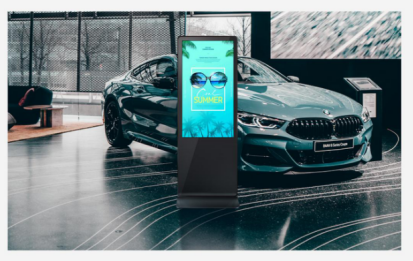 Operators are able to adjust the relevant contents and then appear on the screen through the network right away. It saves both material and labor for skipping the steps such as reprinting and putting up the new notice.
Furthermore, Uniview LCD outdoor digital signage guarantees outdoor display reliability and can be protected from various external damage. The digital display with an IP65 rating can withstand all wet weather conditions and keep out airborne dust. Conformal coating on every major circuit board protects against dust, iron powder, humidity, etc. The enclosure is made from steel sheets and toughened safety glass. All controls and inputs are hidden and not accessible to passersby to avoid tampering. It has better use effects and longer service life.
For Advertising
Digital signage can realize another possible way for car park operators to make a profit by displaying commercial advertisements.
Outdoor advertising enables high population coverage and low cost per thousand with digital signage. It can be rented out to businesses for their product drumbeating. Certain Retailers selling vehicle-related commodities will be attracted by the potential value of showing their brand, products and services business in public, especially in front of a large target group who own cars. Beyond that, customers start at the first stop of the car park as this is where people arrive at a shopping center. Products which are available in it or match the purchasing power of a car family will be more likely to appear on the digital signage.
Way & Car Finding
Finding your way or car is always a nerve-racking experience, especially in a huge car park. In the circumstances, helpful intelligent equipment seems to be very necessary.
Digital signage is more noticeable than static one. The display screen ensures the direction guide can be seen clearly even during the night. Besides, the dynamic guide is more flexible and allows real-time adjustments based on different situations. Drivers and other customers can tell the direction without a hitch when facing a mass of similar intersections. For security reasons, it will be better if the digital signs are placed at drivers' eye level, so it won't divert much of their attention from driving.
Anxiety grows when someone tries to find his/her car for ages. Because of the large and complex structure of a parking lot, it is often difficult for car owners to remember where they have parked their cars, and there is a general problem of difficulty in finding them.
Some drivers have the habit of taking a picture of the parking number sign when they leave, but it is still not easy to find the car without being familiar with the car park even with the number. With a wayfinding kiosk solution and sensitive multi-touch display screen, Uniview LCD interactive kiosk can be the smart choice to locate your car and way.
Car owners only need to enter the license plate number or arrival time in the query terminal at service areas, pedestrian or vehicle access, the system will soon get the correct information and provide the best route to the car. Customers greatly reduce their time of searching and will have a good impression of the car park.
Security
Cases of auto theft have seen an obvious rise over the last few decades. Car park operators have the responsibility for making the customers feel safe to park their cars here. Car park digital signage with cameras and warnings can serve an important function in deterring crimes and helping the police with the investigation, especially in areas lacking police forces.
Car Park Events and Brand Image
A car park can do more than parking. Nowadays, there is a growing trend of organizing social events such as car boot sales, outdoor movie-watching and street performances in car parks. Just imagine using applications of high-tech digital signage for assisting those multiple activities, displaying advertisements for Black Friday's sales campaign and playing Christmas songs during holiday seasons for a wonderfully festive effect.
This is not only a perfect opportunity for promotional purposes, but also a good way to enhance your brand image by applying people-oriented service and advanced management methods.
To discover more digital signage solutions for your business, contact the professionals at Uniview LCD now.