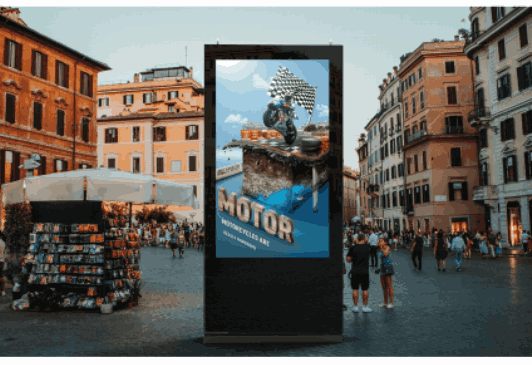 This digital revolution is also sweeping Spain. The 86-inch outdoor digital signage was installed on the streets and areas with heavy traffic in Spain. The introduction of 86-inch outdoor digital signage has brought about a paradigm shift, offering a dynamic and captivating visual experience that revolutionizes the way information is displayed and communicated on the streets of Spain.
The project required the digital display to be resistant to water, dust and other extreme weather, and to have superior readability in direct sunlight.
Uniview Commercial Display's outdoor digital kiosk, with stainless steel casing, laminated tempered and anti-reflective glass and IP65 waterproof and dustproof rating, proved to be an ideal outdoor digital signage solution. This outdoor digital signage is feature-rich with perfect readability and no dark spots in direct sunlight conditions.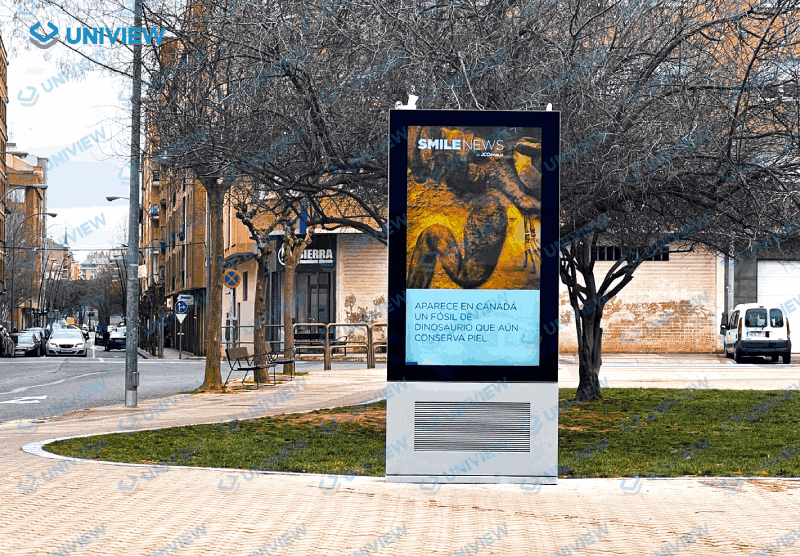 At an impressive 86 inches, these outdoor digital signage displays possess a commanding presence, capturing the attention of pedestrians and motorists alike. With their vibrant colors, high resolution, and superior image quality, excellent readability, these digital displays provide an immersive visual experience that surpasses traditional static signage. By showcasing captivating content such as advertisements, public service announcements, event information, and cultural promotions, these digital displays enable effective communication with the masses, enhancing engagement and awareness.
The introduction of 86-inch outdoor digital signage aligns perfectly with the vibrant spirit of Spain cities. These large-scale displays enable the presentation of dynamic and interactive content, including videos, animations, live feeds, and social media integration. Whether it's showcasing the latest fashion trends, promoting local cultural events, or providing real-time updates on transportation, these digital displays adapt to the ever-changing urban landscape, creating a seamless amalgamation of technology and urban life.
With the ability to display multiple advertisements in rotation, update in real-time and support targeted advertising, the outdoor digital kiosk provides a cost-effective advertising solution and captivating platform that grabs attention and leaves a lasting impression. 
The implementation of 86-inch outdoor digital signage on the streets of Spain marks a significant milestone in the evolution of urban communication. From enhancing engagement and communication to optimizing advertising opportunities, these displays have truly revolutionized the way information is conveyed and experienced in public spaces.
From standard products to customized designs of digital signage, Uniview LCD can provide you with professional digital signage solutions. For more information, contact us now.